Post by Chaos on Jun 4, 2014 11:20:08 GMT -8
Hey!

Sooo I will be explaing to you, how to get reborned for the first time - step by step, how to obtain
all
the required items, if buying them on market isn't an option (example: crazy prices).
1.
You can reborn any time after you hit level 120 (110 for water taoists). For reborning you will need 8 items in total, then combine them into one (Celestial Stone - if you have it already just to point 4.).
Items needed: Clean water, 7 different
NORMAL
gems (dragon, phoenix, kylin, moon, fury, violet and rainbow)
The fastest way to obtain gems, if buying them isn't an option (you can also get them from killing monsters, but you can't decide when will they drop or what kind of it):
- Go to Twin City.
- Next to Warehouse is a Storekeeper.
- Buy
PICKAXE
for 1000 silvers.
- Go to Twin City Conductress and ask her to teleport you to Mine Cave.
- Once teleported, MiningAgent will teleport you into the mine.
- Equip pickaxe and right-click on the ground.
- Ores will appear in your inventory eventually. They will be different (GoldOre, CopperOre, IronOre, etc.) and their quality won't be the same (example: Rate1IronOre, Rate2IronOre, and so on...).
- If you mine long enough, gems - different qualities (normal, refined, super) - will be mined too (NOTE: you will have to drop out the ores - once inventory is full, you stop mining!)
There is another NPC called OldMiner, that exchanges certain ores for certain gems. He can be found
in the mine
, next to the teleport for leaving the mine.
He will trade you a gem for:
30 Iron ores
that have the same rate
(example: 30x Rate9IronOre)
OR 5 Gold ores
- also all the same rate
(example: 5x Rate9GoldOre).
Different rates give you different gems:
| | |
| --- | --- |
| ORE RATE | NORMAL GEM YOU OBTAIN |
| 10 and 9 | Dragon gem |
| 8 and 7 | Phoenix gem |
| 6 | Rainbow gem |
| 5 | Tortoise gem (NOTE: you don't need it for reborning) |
| 4 | Fury gem |
| 3 | Violet gem |
| 2 | Moon gem |
| 1 | Kylin gem |
2.
Once you're done with gems and you have them all, you will need to get 1 Clean water.
Clean water looks just like white dye and it's dropped by WaterLords.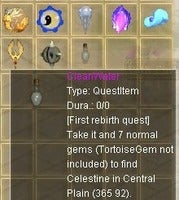 How to get to WaterLords?
- Go to Desert City
(Advice: buy another Desert City scrolls, to get back faster and safer).
- Find Boatman and ask him to teleport you to Adventure Zone for 10,000 silvers.
- Once in Adventure Zone, go all across the island, all the way to the right top corner.
- There is another NPC named UnknownMan. Tell him that you want to continue to another map.
- He sends you to another map. I don't know how it's called, but it's the map with Nightdevils.
This is the map (NOTE: I circled EXTREME ADVENTURE ZONE NPC - FOR LEVELING AFTER 130 - just another thing you should know):
- Go to the left top corner through the portal - into the MetZone (NOTE: you can't be teleported out of MetZone, you have to die to get out - or go to another map and teleport from there. ANOTHER NOTE: left bottom corner has a NPC that teleports you into MetZoneMine - crossing that mine - finding another teleport inside, takes you to a place where you can get MoonBoxes from killing monsters inside).
- Okay, back to MetZone, cross the MetZone to the top left corner. There is a teleport that takes you to Adventure Islands.
Now all you have to do is hop around, teleport from island to island and find WaterLords (they are blue-ish and they have a tiny star above their name). Islands will be full of WaterDevils - another monsters that look the same as WaterLords, but they're yellow.
Some of WaterDevils deal a great amount of damage, so be careful. ADVICE: be leveled, the higher the better, and also - have a good gear.
3.
Now that you obtained all the gems and a Clean water, take them to Celestine.
How to get to Celestine: ask Twin City Conductress to teleport you to Bird Island.
BUT DON'T GO TO BIRD ISLAND - don't go through the portal.
Stay in Twin City and go to the right top corner of the map. Some fields will appear (won't be all grass), near them has to be Celestine. Give Clean water and gems to NPC and you will obtain Celestial Stone. It looks like a green rock. nothing impressive.
4.
Voilá, you have it all.
And finally, reboring and also the trickiest part...
- Go to Ape City.
- Walk and hop all the way to the left top corner of the map (you will pass SnakeMonsters while doing it).
- Go through the portal.
- You get teleported to Dreamland.
The main island - the one you're standing on - is a starting point. You need to jump almost all the way to the top. Count those larger platforms (the biggest ones, there are 11 of them - check on your minimap).
As you continue jumping make sure that you just go up to the 10th platform.
LOOK AT THE LEFT TOP CORNER OF THE SCREEN LITERALLY
ONE STEP
BEFORE YOU CAN REACH THE 10TH LARGE PLATFORM.
There should be a small stone
- it looks like it's just there for no obvious reason.
Picture: one step from 10th platform and a small stone in the left top corner.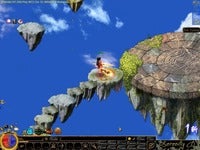 Jump on it. Now follow the road and jump on 3 more. OH! And there's Eternity!
Ask him to reborn you, pick a class you want to be reborn into and choose a reward.

That's it for now (and I'm so sorry if my INGRISH isn't perfect haha). Have a great time, ciaooo!

Chaos